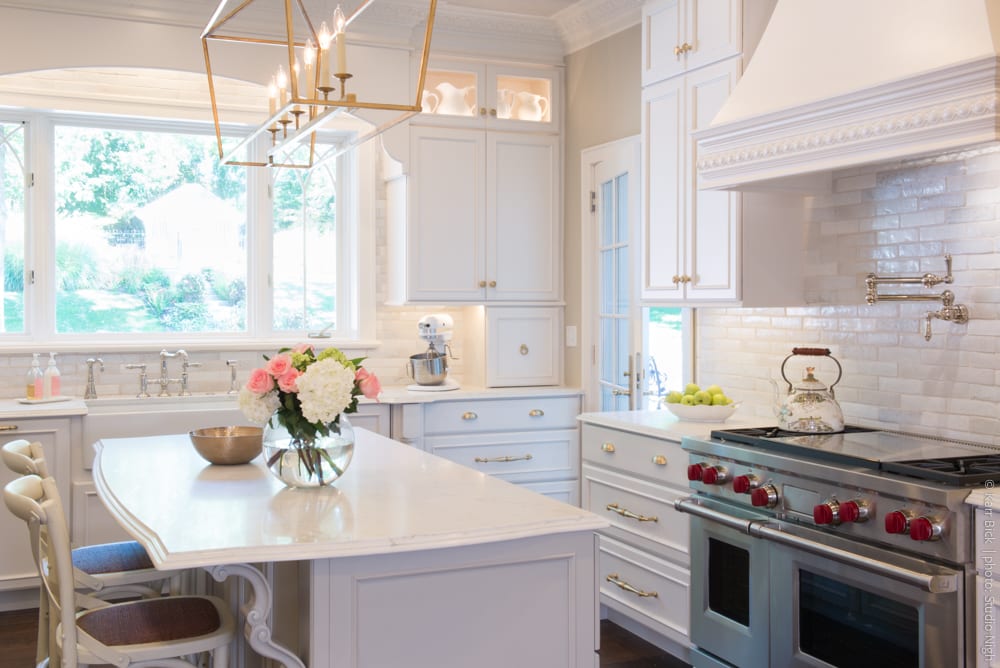 This beautiful, colonial home has good space in the kitchen. There is also an adjacent breakfast room and sunroom for this busy family of 7. But, it wasn't laid out to take full advantage of the space. The homeowner's #1 goal was for the kitchen to feel light and bright and for the adjacent spaces to encourage socializing with her family. This is all to be done while maintaining respect for the original architecture style.
We removed a built-in corner pantry and closed off an open stairwell in order to gain more wall space. The island was expanded and a pretty french door added to gain better access to a landscaped back patio.
In an adjacent room a window was closed off, making space for mom's precious planning desk. This area will help keep her life organized.
The breakfast room and sun porch had an existing header that had to stay. Rather than try to hide it, we made it a feature! The width was expanded and covered with floor to ceiling panels. We decorated it with wall sconces making it a lovely focal point.
We opened up the servants' doorways into the dining room and turned them into grand, high arch ways with decorative molding. This change opened up a closed off formal dining room into a space that now encourages the family to use it more frequently.
We carried dark hardwood floors throughout to warm up the white and pewter inset cabinets and quartz countertops. A whitewashed, brick tile was chosen for the backsplash. It looks like something we could have uncovered during demolition.
A lot of intricate, special details were added that really place the homeowner's signature on the project. Ornate ceiling treatments, crown molding, corbels, and a hood mantle draw your attention as does the classic, brushed brass hardware.
When I think of this project, I think of the mix of rustic/ homey elements – hardwood floors, plank wood ceilings, and exposed brick –  juxtaposed with sophisticated details like chandeliers, ornate carvings, and mirrored tiles. The effect is that you feel special to be there, surrounded by beauty, yet relaxed enough to sit and soak it all in!