My husband and I had just purchased a vacation cottage in an idyllic community near Grafton, IL.  To say we got swept away and bought the place on a whim is an understatement.  To say the place needed a "little bit of work" is another understatement.
Seeing that we hadn't planned (nor budgeted) for such a project, I knew that our remodel would need to be frugal. I would need to be my own designer (or so I thought.) Measurements were taken, graph paper was purchased, and before long, I had chicken scratched out my very own layout for our new bathroom/laundry room.  I was so proud.  I couldn't imagine how it could be better and I couldn't wait to show my new friend, Jenny, who just happens to be a fellow cottage owner and the best designer I know.  Thankfully, Jenny is also a visionary who is honest and direct in the most compassionate way.
"Are you sure you want the toilet right here," she said.  "Well, I think that's the best spot for me to fit it in,"  I replied.  You see, space is tight in the cottage, so this bathroom needed to function as a bathroom for 3 children and a mudroom/laundry room all rolled into one.  Any storage that could make its way into the room was just a dearly needed bonus.
Zero judgments and almost no time later, Jenny was emailing me drawings of my space…only now my space was MUCH more functional, better looking, and had more storage than the "I've got this" graph paper drawing I had designed "all by myself!"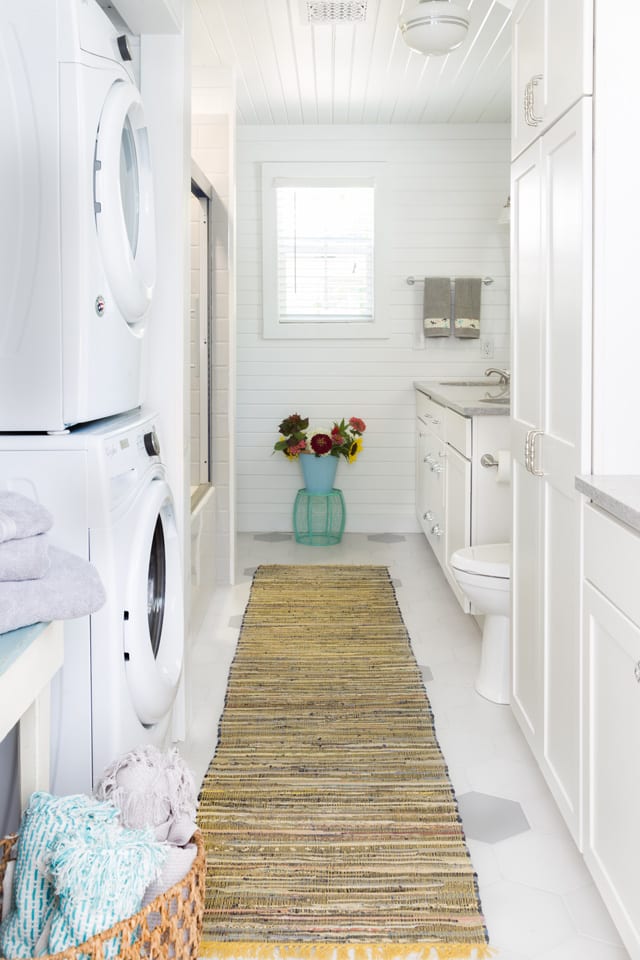 Flash forward a few months and my space is complete.  Guests entering the bathroom from our porch are not immediately greeted by the toilet as in my original plan.  A beautiful under mount stainless laundry sink area sits directly across from my washer/dryer creating perfect function. A tall linen cabinet breaks up the space and adds much-needed storage.  The toilet now has its own tucked away spot and my kids have a double sink vanity offering yet more storage and less opportunity for tooth brushing squabbles.  All of that and I still had space for a full tub and shower so that I don't have to share my shower with the kids.  To me, that is a priceless luxury… but the Karr Bick Plan Review with Jenny will only cost you $349.00.  Trust me, you won't regret a dime.